Reader Rabbit High Flying Act - Download Windows
Develop your child's reading skills for early learning success with Reader Rabbit®. More than 50 activities that teach phonics, alphabet, vocabulary and more. Reader Rabbit High Flying Act is an Interactive Storybook. Words can be sounded out, spelled, or pronounced in full, depending on the button pressed. Each screen of the story features interactivity--games to play, and educational "clickables".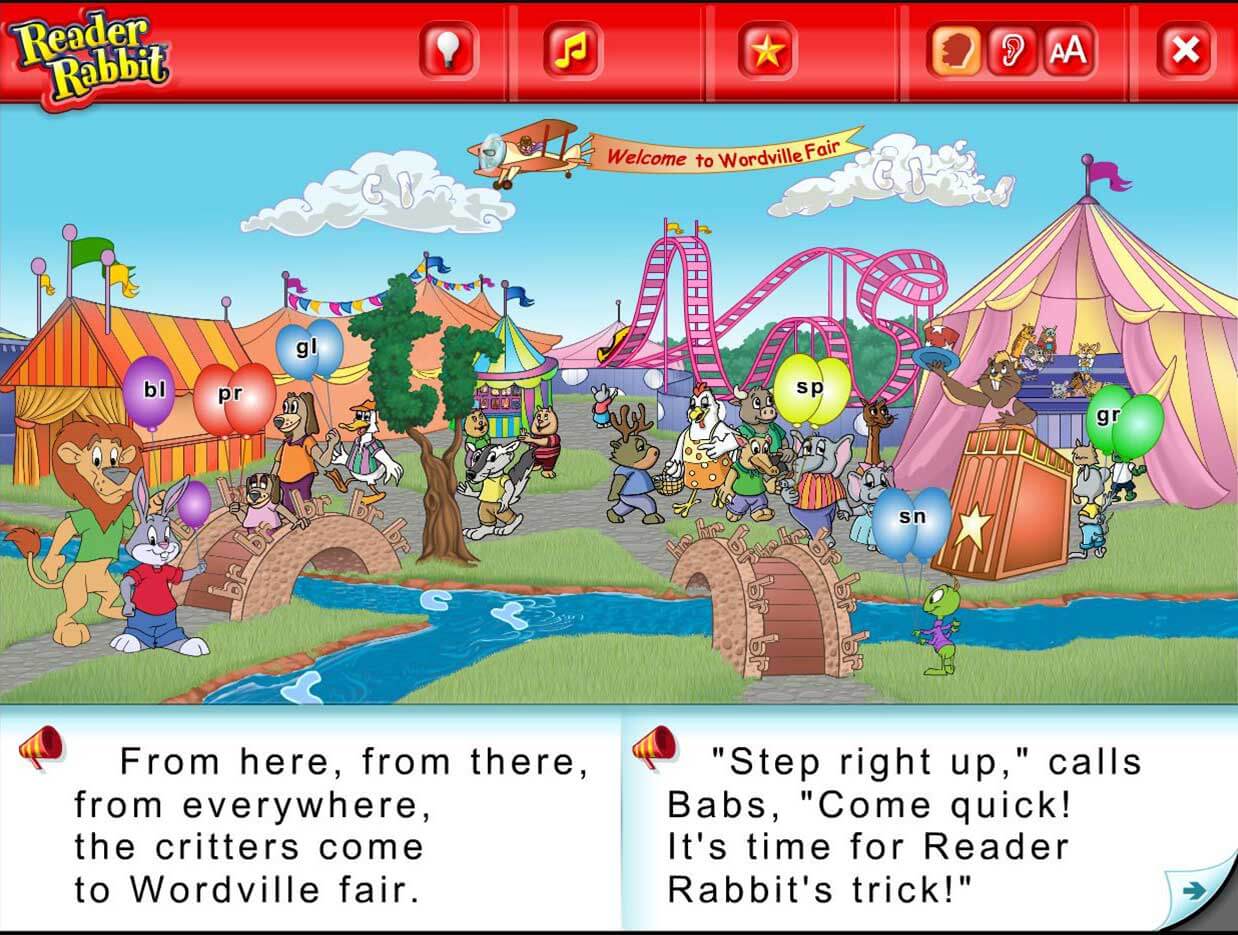 Learn about word families, consonant blends, and more while helping to gather enough prizes to save Reader Rabbit's and Sam the Lion's high flying show at Woodville Fair! Reader Rabbit, Sam the Lion, and friends, are performing in a circus, but their plank breaks in front of a large audience.
Fun activities to help children discover the joy of reading while strengthening essential skills!
The Reader Rabbit Reading uses a winning combination of lively lessons, delightful songs, and creative games to teach and reinforce critical Language Arts skills. Your child will love playing with Reader Rabbit and friends while strengthening essential reading and writing skills. Don't worry if your child is having trouble with an activity. Reader Rabbit and Sam the Lion are always around to ensure your child never gives up!
The activities become more challenging as your child's skill level advances and progress reports are available so you can monitor your child's progression over time.
The interactive storybook features the text of the story that can be read in a variety of ways:
Build vocabulary in a fun storybook format.
Lay the groundwork for successful reading comprehension.
Discover the joy of reading with Reader Rabbit High Flying Act.
More Information

| | |
| --- | --- |
| System Requirements | Windows® 11, Windows® 10, Windows® 8 , Windows® 7, Pentium® processor 166MHz or faster, 32MB RAM, 100MB free hard drive space, 16-bit video card, Sound Blaster compatible sound card, CD-ROM drive, keyboard, mouse, color printer (optional). |