Punch! Home & Landscape Design Professional v20 - Download (with eBook) - Windows
Punch Home Design Software bundled with the Training eBook gives you the perfect combination to design the home of your dreams. Punch Home and Landscape Design Professional version 20 features comprehensive home design, renovation and remodeling capabilities for professionals and DIY enthusiasts. Punch Home and Landscape Design Professional version 20 includes a full-featured interior design suite plus landscape, deck and patio tools, so you can plan your home renovations, inside and out. Professionally designed floor plans, brand name materials, objects, and accessories along with realistic visualization will bring your plans to life. Present your designs in 2D and 3D, as blueprints or create templates to build 3D models. The Training eBook provides you with tips and tutorials to make your design experience easier and more efficient.
Punch! Home & Landscape Design Professional v20is a powerful and intuitive home and landscape design program developed for the designer who wants professional level features, tools, and presentation capabilities. Present designs in 2D and 3D, as blueprints or create templates to build 3D home plan models. The Professional Series is the most feature rich version to date, making home designing faster and easier than ever before!
New Features and Tools in Version 20!
• New! 2D Engine –High Performance and High Quality Rendering for 2D Geometry and Text
• New! Customizable Draw Styles
• New! DWG/DXF Import and Export – Includes AutoCAD 2018
• New! Modify Tool Bar - Align, Edit, and Distribute Images with Ease
• New! Even More Custom Rich Text Options – Multiple Fonts and Attributes
Design Beautiful Spaces Inside and Out!
This complete home and landscape design software suite combines all the materials, tools, textures, furnishings and accessories help make building and landscaping projects a stunning reality. Use Home & Landscape Design Professional v20 to quickly update or design entire homes and commercial buildings; plan kitchen renovations, bathroom renovations, basement remodels, landscape; create outdoor living spaces, decks, patios, pools and get fast results for professional-level or serious DIY home projects.
• Create new home designs, kitchen renovations, bathroom updates and landscapes or use professional designer quality layouts that you can drop into your projects.
• The Professional Series contains a wealth of tools and top features, perfect for the Designer, Contractor and serious DIY person who wants to design a new home, landscaping, renovate, remodel and more.
• New tools, improved drawing methods, easy-to use interface and dynamic search tool makes it easy to design your project and find the materials you need.
• Choose from contemporary to modern style home plans from coast to coast, as well as thousands of materials textures, furnishing, and accessories to complete your 2D and 3D designs. Tips for "Building Green" are included with a selection of green objects and materials.
Includes how-to video tutorials, user forum and technical support to provide help when needed
Design It - Detail It -Visualize It -Live It!
Enhanced drawing tools, new floor plans, brand name product libraries and other capabilities make designing new homes more efficient, easier and exciting than ever! Whether remodeling, renovating, designing or building a brand new house, Punch! Home & Landscape Design Professional v20 contains a powerful array of tools and features to help create unique, professional-level designs.
Helpful Help Features
Home & Landscape Design Professional v20 helps to quickly create 3D home plans and 2D home plans for kitchens, baths and landscapes with professional designer quality layouts that quickly drop into projects. Feature packed v20 offers thousands of materials, textures, furnishings, and accessories and makes it's even easier to find those materials with a dynamic search tool that quickly searches for the perfect furnishing, paint, texture or accessory with ease. V20 goes the extra environmental mile with tips for "Building Green" that includes a selection of green objects and materials. To help with all this designing power, v20 also comes with an Integrated Interactive Help System to make finding and using the right tool easier than ever.
House Design Help from Rooftop to Basement
The Roofing Design tool makes it easier to create the ideal roof design, including gables, dormers, and curved roofs. Once there's a roof overhead, the program helps add windows, doors, walls, then on to create kitchens, bathrooms and landscapes with professional designer quality layouts that easily drop into projects. No detail is left out as HVAC, electrical and plumbingtools are also included. SmartWand™ technology adds paint or other material applications to a wall, room or entire house with one click.
About Punch!
Punch! Software launched with the premise that 3D design software should be just as fun as it is productive to use. With more than 3 million units of its Mac and Windows products sold via retail stores across the world and online, Punch! Software ranks as a best-selling home and landscape design software brands.
Become a Punch! V20 Expert Power User
Discover the true potential of the new Punch! version inside and out.
Training with industry-leading Architect and Punch! software expert, Patricia Gamburgo, will lead the way to your success. Tap into her expert knowledge and proven methods that lead to results.
SEE WHAT'S NEW IN LEARNING PUNCH! SOFTWARE TRAINING, TOOLS AND TUTORIALS FOR V20.
A new eBook dedicated to the latest Punch V20 for Windows version.
All the new features are detailed and explained.
. NEW eBook Layout and Features: This new edition contains 550 pages with more than 1000 color images (showing the new user's interface, tables, examples, rendering results and screenshots as well as the updates), covering exclusively the new Punch Software Version 20 for Windows.
. NEW: This new eBook contains a Glossary, allowing the visualization and search of more than 650 items grouped by type, subject, etc. Topics and tools are linked on the screen using more than 2200 hyperlinks.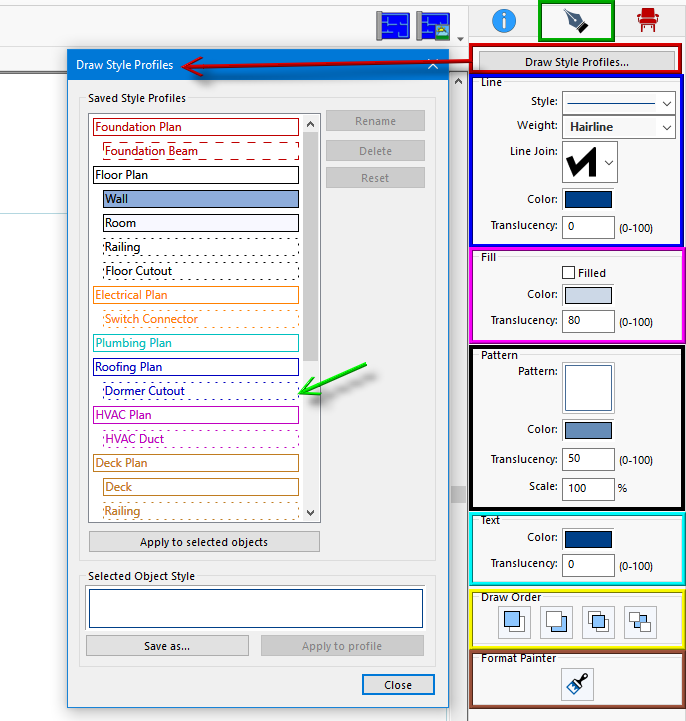 . NEW:Learn how to get the best results by using the new Draw Styles Profiles and Tools.
. NEW: Learn how to use the new and improved Import and Export to CAD capabilities, preparing the Plan to Export and visualizing the Punch to CAD process side by side.
Prepare a plan to export
. NEW Screen Guides: Browse through images of the most important screens of your program, then click on the desired feature and you will be directed to the exact topic in the eBook!
. NEW: Learn how to customize your landscape plan and creating new plant symbols by using the new features in the Plant Symbol Libraries and Draw Styles features.
. NEW: Learn how to create Flat Elevations and Pan Rotated Elevations of your project and using the Elevation Editor plus and the Drawing Styles' Profiles and Tools.
Flat Elevations
Pan Rotated Elevations
. NEW and Current Features examined with updated images reflecting the updated User's Interface and Preferences.
. NEW: get the best results of all the features such as Texturing in 3D, and much more.
. NEW: 100 step by step tips, guides and tutorials, covering the most requested topics, including "How to Landscape a Picture", "How to Create a Split Level House", "How to create a Walkout Basement" and "How to Customize Accessories".
How to Landscape a Picture?
How to Create a Walkout Basement?
As always, learn how to create superb 3D rendered images, now with new tips.
With Learning Punch! Software: Training, Tools, and Tutorials in hand, you will be using Punch! like a pro in no time. Patricia Gamburgo makes mastering Punch! software easy and fun.
TAKE YOUR HOME, LANDSCAPE OR COMMERICIAL BUILDING PROJECT TO THE NEXT LEVEL.
. Understand how Punch! programs think in an architectural environment.
. Reach for the programs' maximum potential.
. Suitable for homeowners and professionals.
. Advanced search options make finding even the most detailed information easy.
. Training, tools and tutorials put you in charge.
. Covers all titles of Punch Software version 20 for PC.
. Discover how to visualize your interiors and exteriors using 3D rendering.
CLEAR EXPLAINATIONS WITH 1000 COLOR IMAGES, PLUS TRAINING GUIDES AND TUTORIALS
Learn best practice methods for design, 2D-3D, building components, importing, exporting, printing and power tools.
i. How to start a project?
ii. How to insert a picture and landscape it?
iii. How to develop a roof?
iv. How to add structural elements?
v. How to create an elevation?
Visual guides provide an easy to follow road map.
Topics and tools have links for additional information.
MASTER THE V20 PROGRAMS
1.Find out what is most important in a home design program.
2.Explore the difference between 2D and 3D.
3.Discover how to manage building information.
4.Understand tabs, layers, floors and elevations.
5.Learn about starting new projects, walls, roofs, floors, ceilings and decks.
6.Develop topography, landscaping, and structure.
Importing, exporting and printing:
1.Optimizing 3D objeccts.
2.Setting and enhancing pictures.
3.Using printing and real view.
Power tools techniques defined for best use:
1.Developing objects with the 3D Custom Workshop.
2.Inserting images in 3D with the Photoview Power Tool.
3.Learning to use Designer power tools for ceilings, doors, windows, fences, pools, mantels and trims.
From topography to tools, our complete Punch! software training course contains the insights that you need for your next project. Download your Punch! Training, Tools & Tutorials eBooks today.
More Information

| | |
| --- | --- |
| System Requirements | Windows® 7 or higher, Intel® or compatible 1.0 GHz processor or higher (multi-core processor supported), 1 GB of RAM, 4 GB or more recommended, 3 GB of Hard Disk Space, VGA Video Card displaying at least 1024x768 with 32-bit color, DVD-ROM drive for media installations only, Mouse with wheel recommended, 256 MB Video Card Memory, Internet access and Internet Service Provider account required Administrator privileges are required to properly install the program on Windows® 7 or higher. User is responsible for all Internet access fees and phone charges |
| Legal Copy | N/A |