Design stunning print projects like never before with the brand-new The Print Shop Mac! For the newest version, we continued to pack in the most advanced advertising design tools and printing solutions for a truly incredible price. Create projects free of license limitations with over 10,000 royalty-free professional backgrounds and images, and thousands of unique royalty-free templates. Need to customize your outreach even further? Easily import personal photos, then color correct, crop, and alter them in any way you see fit to elevate your designs. With our photo editing tools, it's easy to add gradients, as well as build frames with our custom border maker.
Note: Need to install the program on more than one computer? Add flexibility to use on up to 3 Macintosh computers in a single household. The option to add 3 licenses (Family Edition) is available in the drop-down menu below for an additional $20.The Print Shop For MAC runs-on OS's Catalina,Big Sur,Monterey and Ventura
Ready, Set, Create!
Looking for professional graphic designs that communicate your unique voice and business strategy to your clients and prospective customers? Let The Print Shop Mac new version assist you. Put together picture-perfect designs for everything from keepsake scrapbooks to seasonal cards, calendars, business brochures, cards and so much more. From start to finish, The Print Shop Mac has everything you need to make impressive projects every time. Make beautiful things happen with your great ideas and the latest features, all tailored especially for Mac users.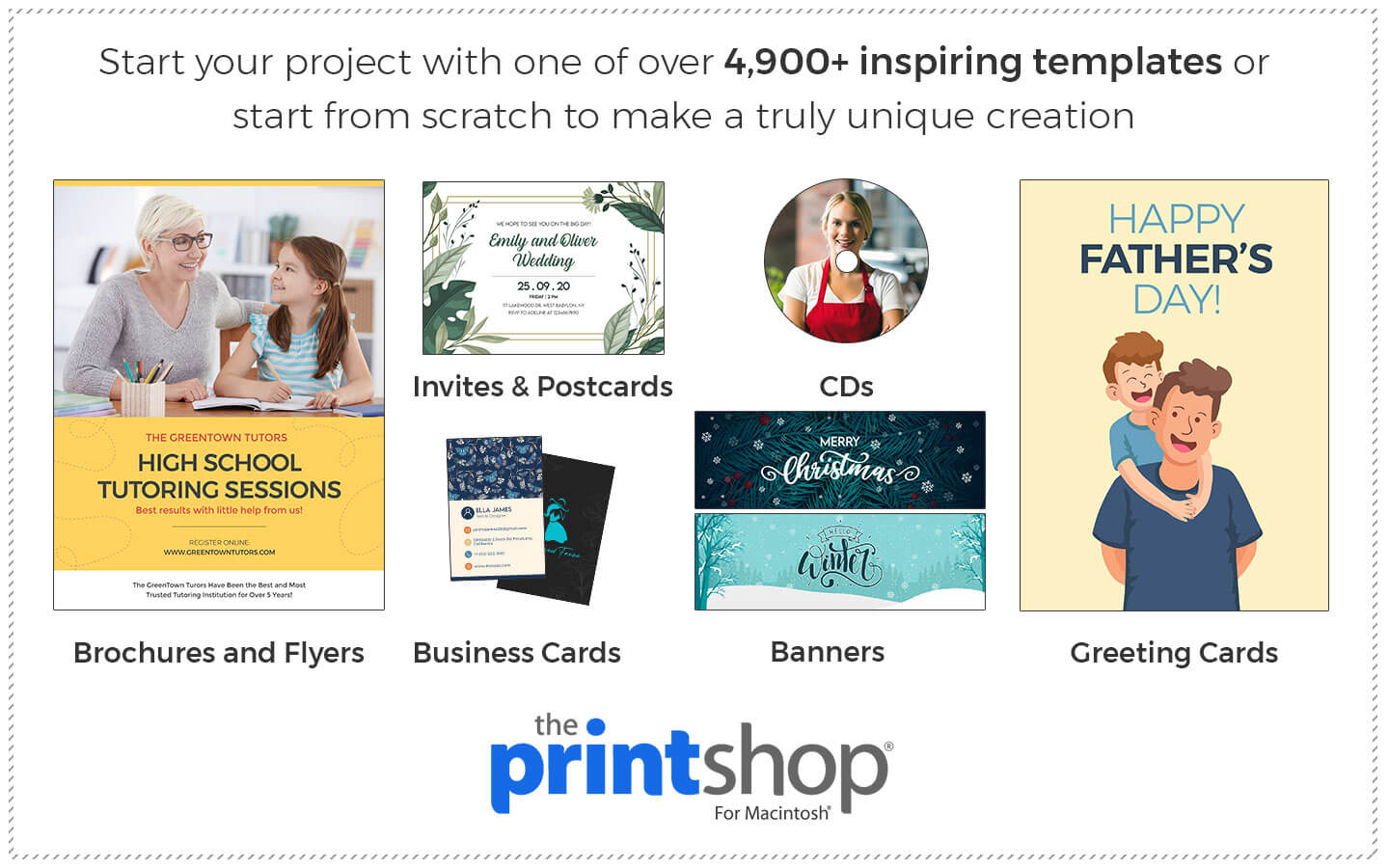 Simply build projects by either starting from one of the over 4,000 templates or create a truly custom project from scratch. Getting started is easy, with quick access to the tools you need. Modifying your layout, editing your text, and aligning your photos has never been easier! The Print Shop Mac's handy tool set empowers you to be your creative best.
Key features in The Print Shop Mac:
Personalize your designs with powerful One-Click picture editing tools
Make the design the focus with the intuitive ribbon interface
160,000+ Clip art images for any occasion
10,000+ Royalty-free images for business or home
4,500+ Templates for meetings, greetings, or just fun
400+ Royalty-Free Templates to make your business stand out
Snap and Guide Manager to put everything just where you want it
Dynamic headline creation with all the tools to make your statement stand out
Organize and personalize with the address book for mailing, labels, and seasonal cards
Interface: Updated User interface
Compatibility: Runs-on OS's Catalina and Big Sur
Get Started: Easy registration and licensing
New Text Fonts : Choose from a variety of new 1500+ text fonts to give your design a more professional look.
4000+ Ready-Made Templates: Choose from thousands of royalty-free templates to get your project started, and then customize royalty-free professional backgrounds and images.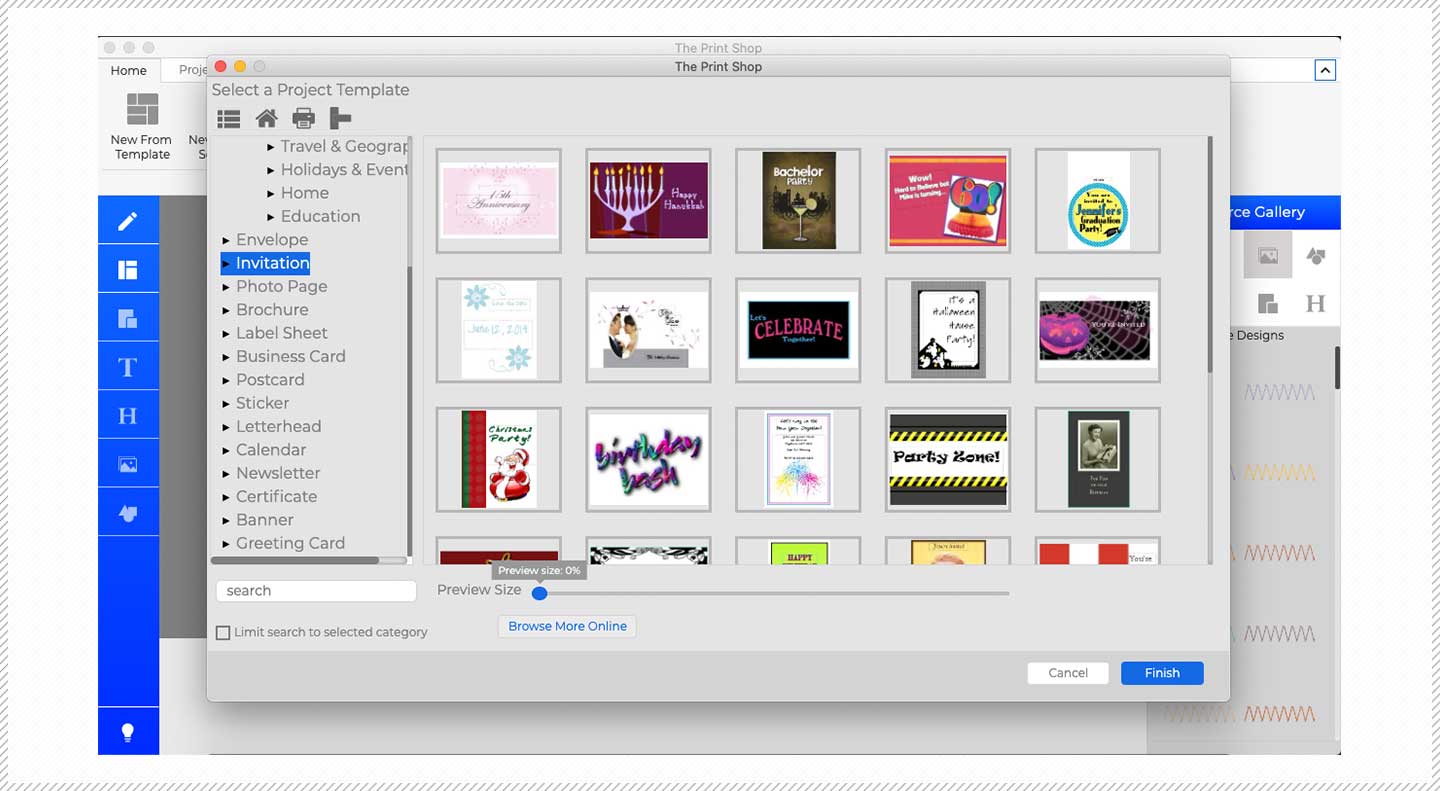 More shapes: The Print Shop Mac includes 67 more variety of shapes as compared to all previous versions.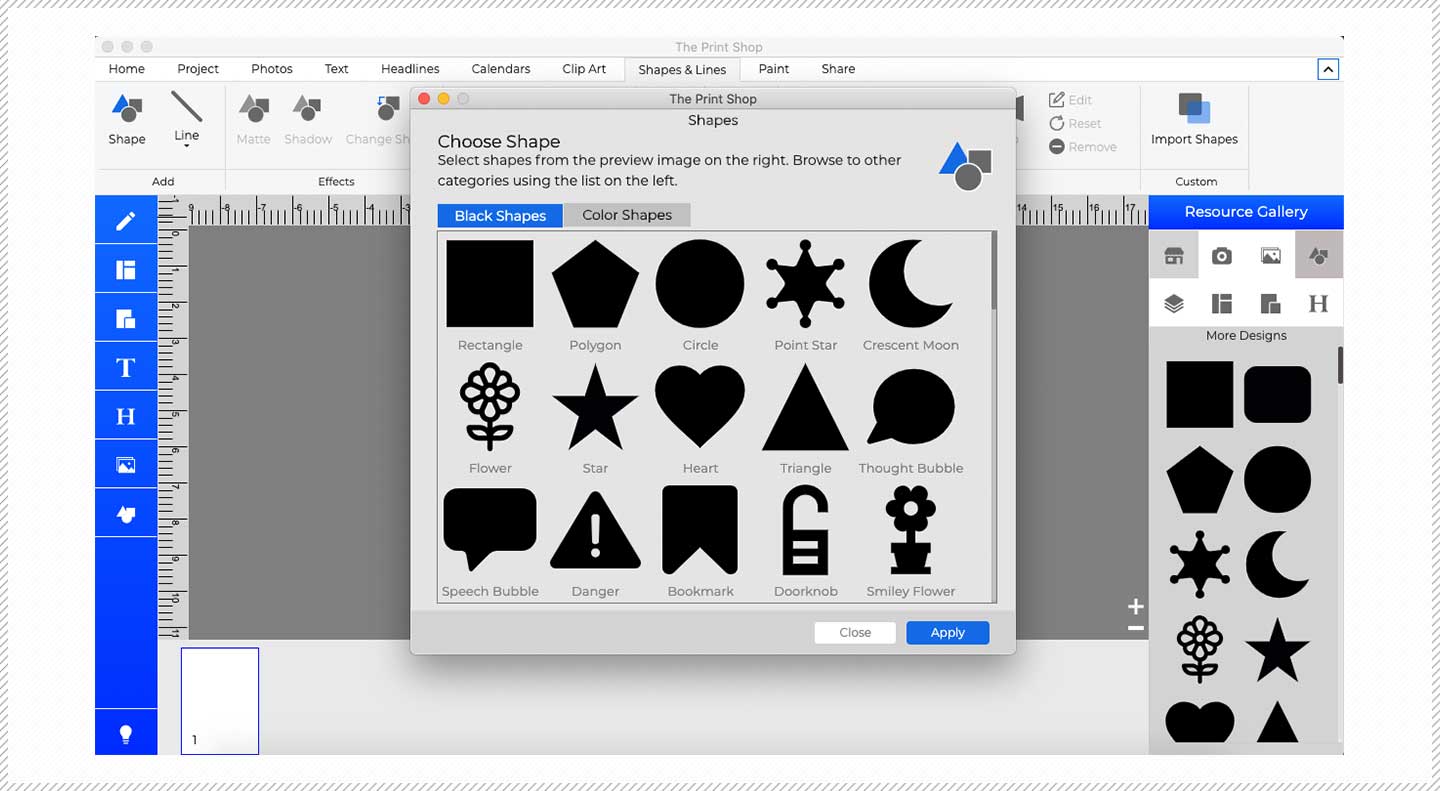 Export Images: Export images by saving it as PNG or JPG formats.
Edit Text: Edit text with different text colors, applying shadow effect and by changing text opacity
Colored Shapes: Add 32 colorful shapes within canvas from a variety of colored shapes available in the new The Print Shop Mac.
Super Script and Sub Script Text: Implement "Superscript" or "Subscript" styles in any text by using these new text options.
More Brushes: The Print Shop Mac now includes different brush styles i.e. Pencil, Circle, Spray, Pattern, VLine, Online, Square, and Diamond.
Free Paint: The Paint option now gives users the ability to paint freely on the canvas, instead of having to paint within a default, square box.
New photo Effects: New photo effects allow users to add more professional looks within the design.
Reload Application: The Reload feature enables users with a single click, to refresh the application, by closing the current project and resuming from you left off.
Clear Cache: Clear your cache memory and boost application performance in seconds with the addition of the Clear Cache tool.
Send a Print Shop project (PDF) in email: The latest new release allows users to share any project as PDF files via email.
Send project (PDF) in message: Apple iMessage is now supported in Print Shop Mac. Send you the Print Shop project as a PDF file to iMessage contacts by using iMessage.
Save Project to iCloud: Now you can save your projects to your iCloud drive.
Save user registration info( Email and Key) in the About section of the Help menu.
Runs-on OS's Catalina,Big Sur,Monterey and Ventura
• Intel® Core™ 2 Duo 2 GHz or better (2.4 GHz recommended) processor
• 2 GB RAM (4 GB or more recommended)
• 64 MB Video RAM (256 MB video RAM recommended)
• DVD-ROM drive
• Available Hard Disk Space: Install requires about 1 GB. Downloadable clip art and templates can require up to 36 GB of hard drive space.
• Broadband Internet connection required
• Keyboard and mouse
Additional Information:
• Administrator privileges are required to properly install the program on Mac® OS X.
• The user is responsible for all Internet access fees and phone charges.
System Settings:
• Monitor Resolution: 1152 x 864 or higher
Recommended Additional Equipment:
• Printer
• Digital Camera