The Print Shop Professional 6.4 with Creativity Collection 2
The Print Shop Professional was created with at-home and small business professionals in mind. For the newest version, we continued to pack in the most advanced advertising design tools and printing solutions for a truly incredible price. Create projects free of license limitations with over 10,000 royalty-free professional backgrounds and images, and thousands of unique royalty-free templates. Need to customize your outreach even further? Easily import personal photos, then color correct, crop, and alter them in any way you see fit to elevate your designs. With our photo editing tools, it's easy to add gradients, as well as build frames with our custom border maker.
Note: Need to install a program on more than one PC? Add flexibility to use on up to 3 PCs in a single household. The option to add 3 licenses (Business Edition) is available in the drop-down menu below for an additional $30.
The Print Shop Professional 6.4
Create professional, high-end graphics without breaking the budget
Looking for professional graphic designs that communicate your unique voice and business strategy to your clients and prospective customers? Let The Print Shop Professional assist you in all your graphic and communications needs.
The Print Shop is perfect for small- and medium-sized businesses, non-profit organizations, and self-employed entrepreneurs – anyone who doesn't have a big budget to spend on expensive marketing efforts. Choose from thousands of custom options that ensure a professional look for your marketing collateral, sales pieces, and fundraising efforts – while letting your business shine through.
Time-saving design
The Print Shop Professional saves you and your employees time when designing business pieces – simply follow these three steps.
| | |
| --- | --- |
| 1. Find the perfect design. Choose the right look from thousands of templates. | |
| | |
| --- | --- |
| | 2. Brand it. Bring in your business's brand by adding your business's photos, images, colors, logos, and calls-to-action. |
3. Print, share or advertise. Once your design is complete, print in-office or choose from a range of professional printing options for the final product.


New and updated features in The Print Shop Professional 6.4
Enhanced User Interface
Improved Ready Made Project Search
New Customized Print Options
Enhanced Print Wizard
Spell Check
New Quick Access to Most Used Functions
Exclusive to Professional Version:
New Import Pages and Elements from other projects
New Import Custom Shapes
New Templates and Clip Art
Now we are offering 100 new Christmas offline templates with installer, so these 100 template will not use the server and load rapidly
Key features in The The Print Shop Professional 6.4
Edit your look with 9 new image effects
Automatically size an imported graphic to its original size
Print and design easily with Avery templates
Easily resize and edit several objects at once
Add grids with our snap-to-grid function
Embed fonts when saving to PDF
Over 5000 new Royalty-Free images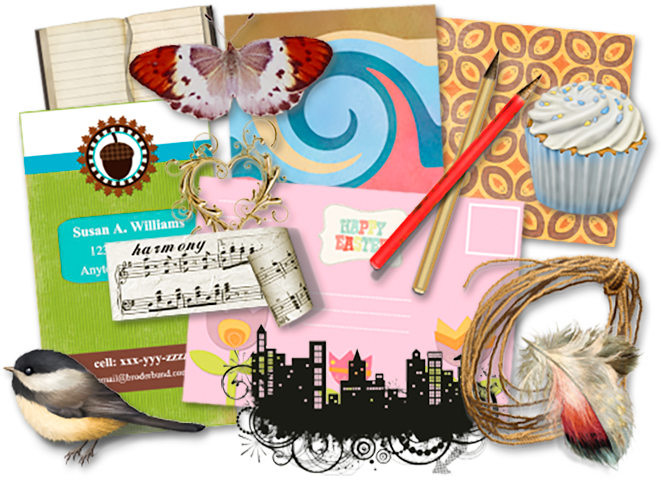 Build the business designs you need, including: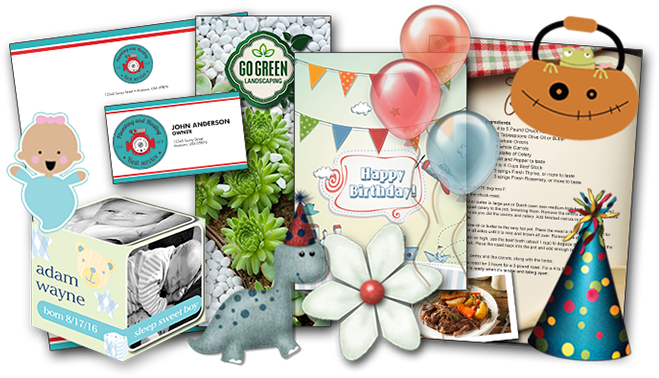 By the numbers
The sheer volume of options included in The Print Shop Professional means you can build anything your business needs. Choose from thousands of royalty-free templates to get your project started, and then customize with more than more than 10,000 royalty-free professional backgrounds and images. Need more options? Options for commercial use are nearly endless.
Designs tools for that professional finish
Have the perfect plan in place for all your business graphics? The Print Shop Professional is your small business partner for any design need.
Make our templates, images, and patterns yours with our photo editor and text tools to communicate your specialty and brand to your clients. Easily import personal photos and color correct, crop, and alter them in any way you need to elevate your design. With our easy design tools, you can add your own shadows and gradients, as well as build frames with our custom border maker. You can also import
Reaching out to a lot of clients at once? Manage all your contacts easily, from names and numbers to important dates – then merge the right information into your project.
Whether you are a small business, community organization wishing to reach out to members, or a wannabe designer looking to create impressive ad materials, The Print Shop Professional is incredibly flexible and the perfect tool for creating design magic.
The Creativity Collection Volume 2
Clip Art That Expresses Your Creativity
More Images Than Ever
New! Get inspired by 5,900 royalty-free images. Transform your great ideas into fabulous finished projects. The Creativity Collection 2 has perfect clip art images or backgrounds for all projects big and small. Royalty-free content gives you the flexibility and rights to use them for any project with no restrictions.
Graphics galore with images, clipart, backgrounds and more
5,900 Clip art image and backgrounds
All royalty free and suitable for commercial or personal use
Superior Selection of Stock Images
Find a world of images and clip art with flowers, people, animals, shapes, symbols, holiday items, seasonal selections, landscapes and much more. Creating a design with a professional look has never been easier. Discover how easy The Creative Collection 2 is to use and how wonderful your projects look when you do.
Be inspired
Create concepts
Do delightful designs
Perfect your projects
Become an artist
Incredible Images and Illustrations for Your Projects
You know a picture's worth 1,000 words; The Creativity Collection 2 has that and more in store for you! The perfect picture makes all the difference, whether your project is for business or pleasure. Let your creativity go with all kinds of projects, including:
Brochures
Banners
Business Cards
Greeting Cards
Calendars
Crafts
Invitations
Letterhead and Envelopes
Newsletters
Scrapbooks
Signs
Stickers and Labels
And Many More!
Royalty-Free Images for Business*
If you are creating designs that you are selling or using as part of your business, then The Creativity Collection Volume 2 is for you! This premium collection of royalty-free images is perfect for advertisements, brochures, posters, business cards or other commercial needs. Expand your design possibilities like never before with The Creativity Collection Volume 2 today!
Compatibility with Other Titles
Easily import clip art images and background images from The Creativity Collection 2 into the following titles:
PrintMaster 18.1
PrintMaster 2.0
PrintMaster 2011
PrintMaster 2012
PrintMaster v6.0
PrintMaster v7.0
The Print Shop 23.1
The Print Shop 2.0
The Print Shop 3.0
The Print Shop 3.5
The Print Shop 4.0
*Please refrain from rebranding, redistributing, selling or claiming graphics as your own.
More Information
System Requirements

Windows® 10¹, Windows® 8, Windows® 7 and , Intel® processor (or equivalent AMD® processor) 2.0 GHz or faster, 4GB RAM, Hard Drive Space: 2GB², DVD-ROM drive, Display: 1024x768, 16-bit color or higher, Multimedia: DirectX® 9.0c or higher 32 MB video card, sound card, and speakers. Software: Microsoft® .NET Framework v4.0, Browser: Microsoft® Internet Explorer® 6.0 or higher, Windows® compatible printer (monochrome or color),
Windows® compatible mouse & keyboard, Internet access: Broadband Internet connection required³.

¹Administrator privileges are required to properly install the program on Windows® 7, Windows® 8, and Windows® 10.

²System Configuration: The amount of hard-disk space required can vary if you already have one or more required components installed on your system. Adjustments to your system configuration and/or updates to the hardware component drivers may be required.

³User is responsible for all Internet access fees and phone charges.

Legal Copy

The Print Shop Professional Version 6.4 © Encore Software, LLC. All rights reserved. The Print Shop and Broderbund are registered trademarks of HMH Consumer Company Limited, used under license. © 1998 John McPherson/Distributed by Universal Press Syndicate. The PhotosToGo™ Images in this product are copyrighted by Index Stock Photography Inc. Aportion of the images © Christie's Images Ltd. A portion of the images © The Bridgeman Art Library/Christie's Images. A portion of the images © The Luis A. Ferre Foundation, Ponce, Puerto Rico/Christie's Images Ltd. A portion of the images ©1998 Janet Carder. A portion of the fonts © 2001 Bitstream Inc. Portions of content © 1999-2009 Getty Images, Inc. All rights reserved. Portions of content © 1994-2009 Jupiterimages Corporation. All rights reserved by their respective owners. Close to Home is a trademark of John McPherson, used under license. Microsoft, Windows, Windows Vista, and the Windows logo are either registered trademarks or trademarks of Microsoft Corporation in the United States and/or other countries. All other trademarks are the property of their respective owners. All rights reserved. USE OF THIS PRODUCT IS SUBJECT TO CERTAIN RESTRICTIONS AND LIMITATIONS OF WARRANTY UNDER THE LICENSE AGREEMENT CONTAINED HEREIN.