The Print Shop Deluxe 6.4 with Creative Fonts Traditional Collection - Download
With the Ultimate Design pack, its easy and affordable to create your own sophisticated designs. This Ultimate design pack contains The Print Shop- The #1 selling Print Productivity Software, 4,800+ professional designed templates, 193,000+ clip art and photo options, and our Traditional Fonts Collection comes with unique and professionally created fonts that represent a modern take on traditional fonts and makes a great addition to any font library. Unleash Your Creativity and start designing with the ultimate design pack.
The Print Shop Deluxe 6.4
Put your imagination to use and we'll take care of the rest
The Print Shop Deluxe is a creative design suite that's perfect for use in your home or small business. Whether you're a community organization wishing to reach out to the members, a small business owner looking for templates, or designer looking to create impressive ad materials, The Print Shop Deluxe is perfect for you. Tap into your creative juices with help from our thousands of templates, images, and photos to create something truly unique.
The Easiest Way to Create Sophisticated Design Projects
Making your own sophisticated design is a cinch with the Print Shop. No design experience necessary! We encourage a playful approach so you can see for yourself how easy it is to create something unique and professional in three easy steps:
| | |
| --- | --- |
| 1. Pick a design. Choose the perfect style from thousands of our templates. | |
| | |
| --- | --- |
| | 2. Make it personal. Bring the design to life with your own logos, photos, images, phrases, and colors |
3. Share with Print on Demand. Turn your special design into a final product – print at home, the office, or choose from your own professional printing options to share your project.


New and updated features in The Print Shop Deluxe 6.4
Enhanced User Interface
Improved Ready Made Project Search
New Customized Print Options
Enhanced Print Wizard
Spell Check
New Quick Access to Most Used Functions
Now we are offering 100 new Christmas offline templates with installer, so these 100 template will not use the server and load rapidly
Key features in The Print Shop Deluxe 6.4!
Print and design easily with Avery templates
Automatically size an imported graphic to its original size
Enhanced ability to resize and edit several objects at once
Align objects with our snap-to-grid functionality
New event management capabilities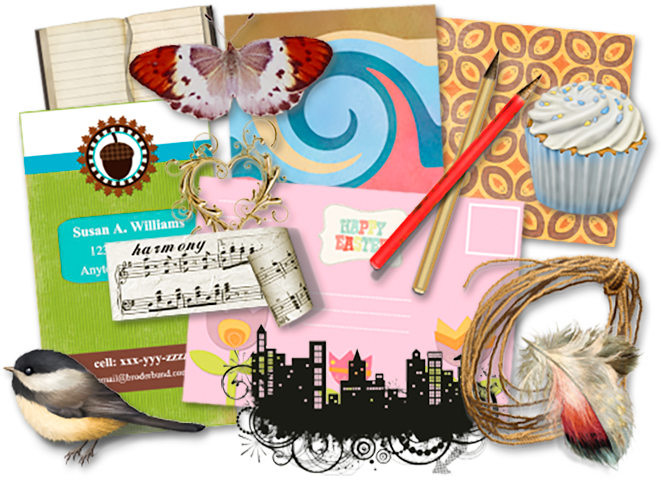 Create any project for business, personal, or family fun – here are a few ideas!
Brochures
Signs
Post Cards
Business Cards
Greeting Cards
Envelope
Invitations
Labels
Certificates
Calendars
Business reports
Social Media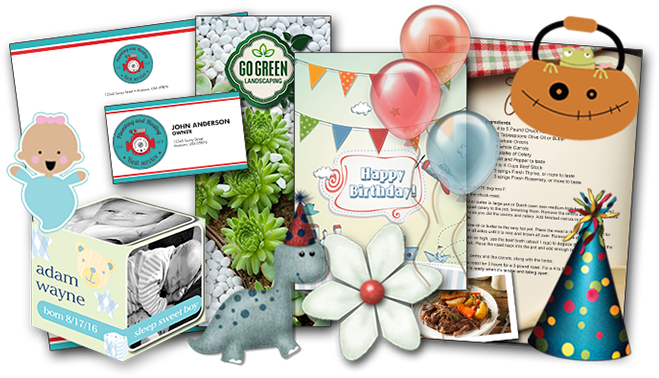 Home Office Partner:
The Print Shop Deluxe is here to help. From the event you're organizing, to the meeting calendar you're designing, to the brochures you'll leave with new clients, The Print Shop Deluxe is ready to make work easier while telling your story. With 193,000+ clip art and photo options and over 4,800+ templates, you can rely on the Print Shop to give your ideas a unique and professional flair.
Easy-to-use design tools!
Have the perfect picture but need to clean it up a bit? A built-in photo editor is a powerful tool that makes precise, easy edits. Erase blemishes, correct red-eye, adjust color, and more!
If the message is key to your design, browse the many text effects to create exactly the look you need. Bold, powerful, modern, simple, sophisticated – achieve any look with text tools like gradients, drop shadows, block letters, 3D effects, shapes, and more.
Whether you are a community organization wishing to reach out to members, small business owners looking for templates, or a wannabe designer looking to create impressive ad materials, The Print Shop Deluxe is incredibly flexible and ready to make some design magic.
Creative Fonts Traditional Collection
What's Included:
The Creative Fonts Traditional Collection is a unique, hand selected group of fonts. Each font is categorized into themed sets that you can view in more detail below.
Classic Fonts:
The perfect collection for professional newsletters, print ads, and more. Bring a touch of class to your creative projects.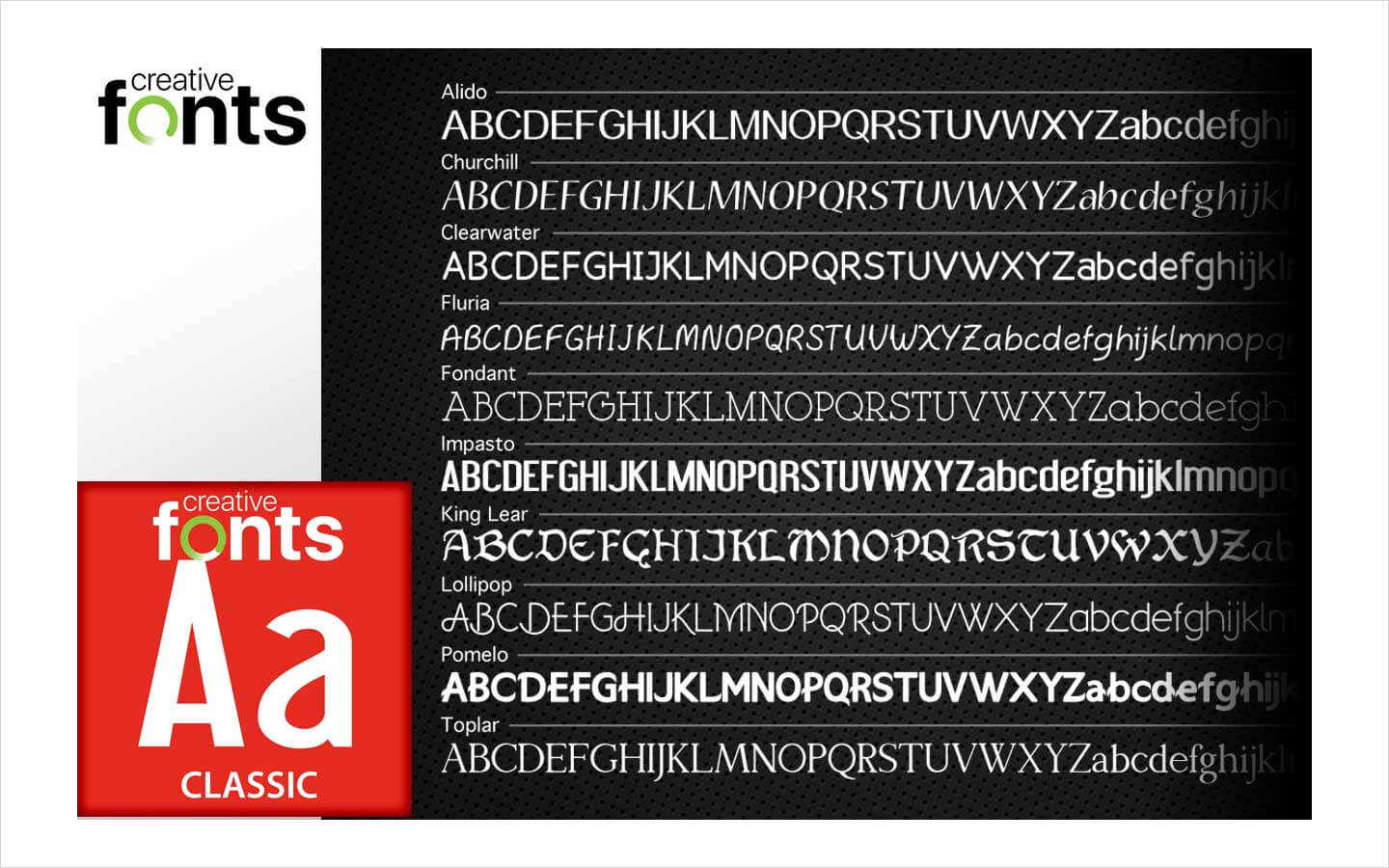 Cursive Fonts:
Add sophistication to your next soirée invitation, with a cursive font that conveys a hint of luxury. Perfect for upscale invitations, place holders or black-tie events.
Creativity Fonts:
This Creativity Fonts Collection is as varied and wide-ranged as your own imagination. Add an artistic flair to your projects like birthday invites, logos, and signs.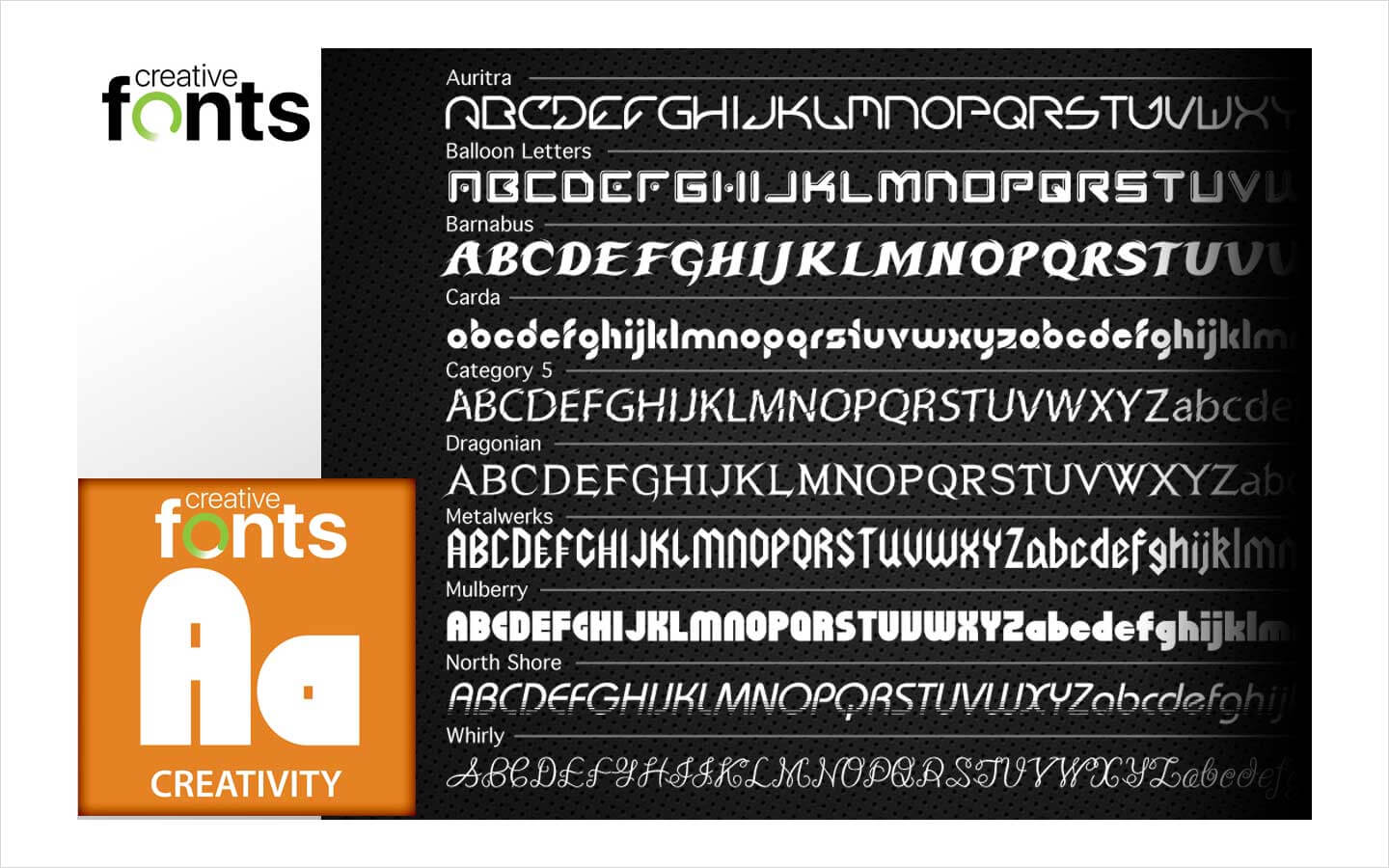 Designer Fonts:
Fonts that designers search for. Eye catching, unique fonts that set you apart from everyone else and are perfect for branding, signage, logos and more.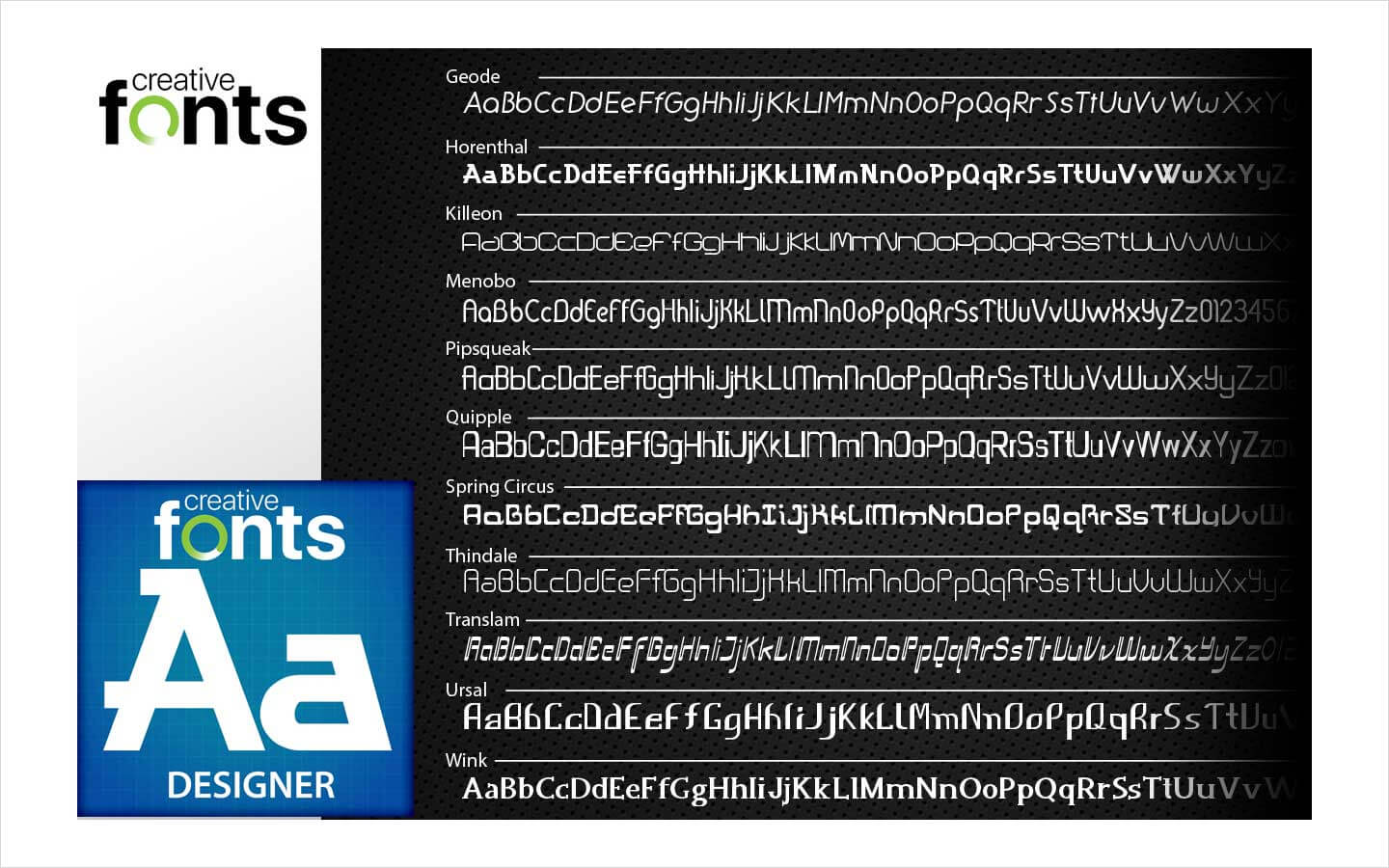 Cool Fonts:
A modern take on fonts with clean, crisp, cool font selections. This collection is perfect for modern websites, brands and logos. They also work great with hip and trendy night clubs, parties, and events.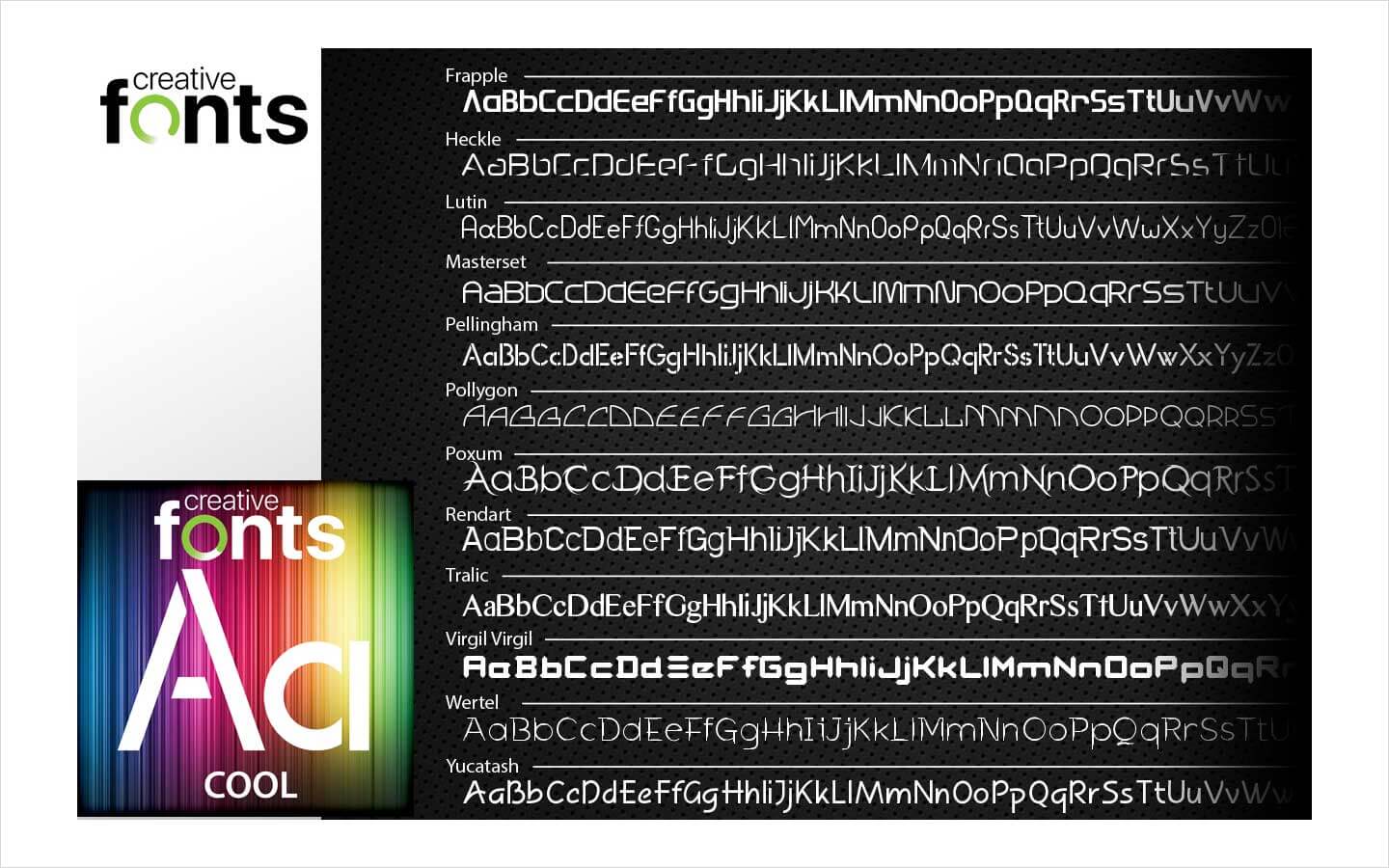 Handwriting Fonts:
Create your invitation with a personal touch your guests deserve. Our Handwriting Fonts Collection takes the mass production feel out of any project and replaces it with a warm handwritten one.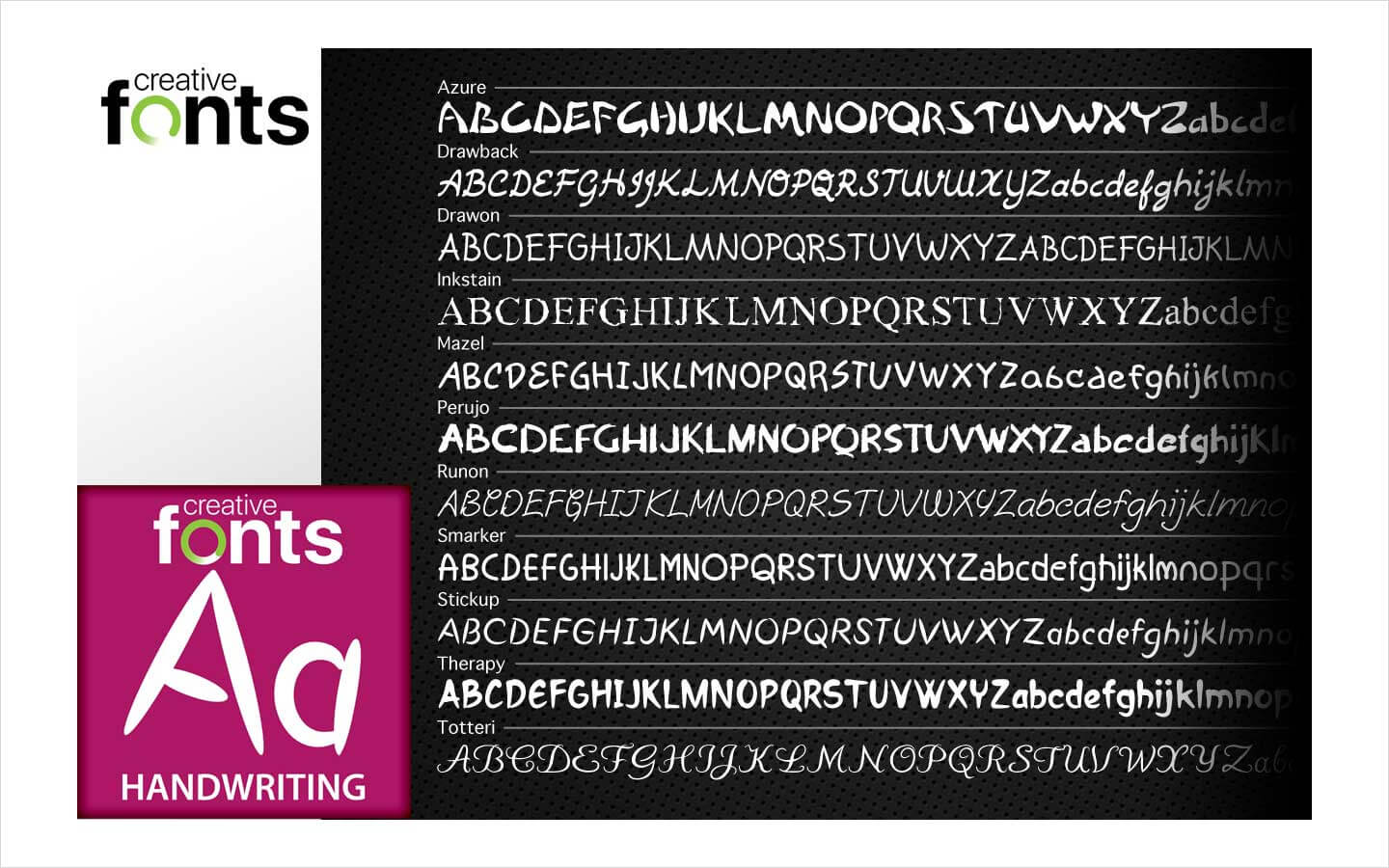 Get More With Our Fonts!
High Quality & Unique:
All of our Creative Fonts are OpenType, the same industry standard used by Microsoft® and Adobe®. This means they stay sharp and clear at any size.
Commercially Licensed:
All the fonts in the Creative Font collections are licensed for personal and commercial use. So rest easy knowing that you can use them royalty-free where ever and whenever you like!
Full Character Sets:
Each and every creative font contains a full set of characters plus all of the international and foreign language symbols and special characters.
Our Fonts Work With Any Program:
All of our fonts are 100% compatible with all your favorite programs. This gives you incredible flexibility in deciding how and where you want to put these fonts to use. Bottom line – the control is in your hands.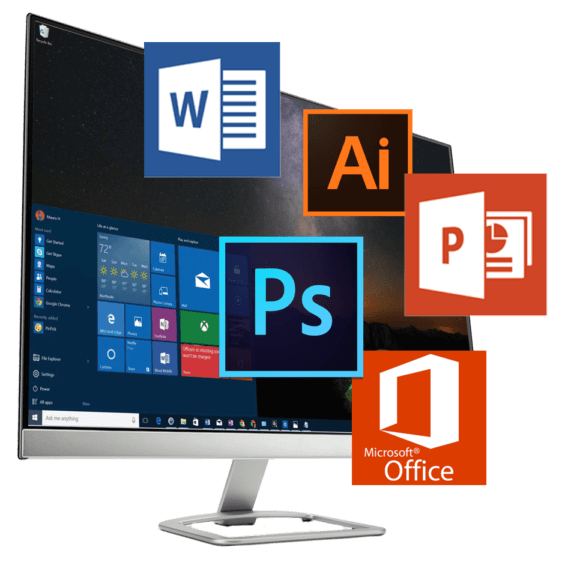 More Information
System Requirements

Windows® 11, Windows® 10¹, Windows® 8, Windows® 7 and , Intel® processor (or equivalent AMD® processor) 2.0 GHz or faster, 2GB RAM (4GB RAM for Windows Vista®, Windows® 7, Windows® 8, and Windows® 10), Hard Drive Space: 2GB², DVD-ROM drive, Display: 1024x768, 16-bit color or higher, Multimedia: DirectX® 9.0c or higher 32 MB video card, sound card, and speakers. Software: Microsoft® .NET Framework v4.0, Browser: Microsoft® Internet Explorer® 6.0 or higher, Windows® compatible printer (monochrome or color),
Windows® compatible mouse & keyboard, Internet access: Broadband Internet connection required³.

¹Administrator privileges are required to properly install the program on Windows® 7, Windows® 8, and Windows® 10.

²System Configuration: The amount of hard-disk space required can vary if you already have one or more required components installed on your system. Adjustments to your system configuration and/or updates to the hardware component drivers may be required.

³User is responsible for all Internet access fees and phone charges.

Legal Copy

The Print Shop Deluxe Version 6.0 © Encore Software, LLC. All rights reserved. The Print Shop and Broderbund are registered trademarks of HMH Consumer Company Limited, used under license. © 1998 John McPherson/Distributed by Universal Press Syndicate. The PhotosToGo™ Images in this product are copyrighted by Index Stock Photography Inc. Aportion of the images © Christie's Images Ltd. A portion of the images © The Bridgeman Art Library/Christie's Images. A portion of the images © The Luis A. Ferre Foundation, Ponce, Puerto Rico/Christie's Images Ltd. A portion of the images ©1998 Janet Carder. A portion of the fonts © 2001 Bitstream Inc. Portions of content © 1999-2009 Getty Images, Inc. All rights reserved. Portions of content © 1994-2009 Jupiterimages Corporation. All rights reserved by their respective owners. Close to Home is a trademark of John McPherson, used under license. Microsoft, Windows, Windows Vista, and the Windows logo are either registered trademarks or trademarks of Microsoft Corporation in the United States and/or other countries. All other trademarks are the property of their respective owners. All rights reserved. USE OF THIS PRODUCT IS SUBJECT TO CERTAIN RESTRICTIONS AND LIMITATIONS OF WARRANTY UNDER THE LICENSE AGREEMENT CONTAINED HEREIN.